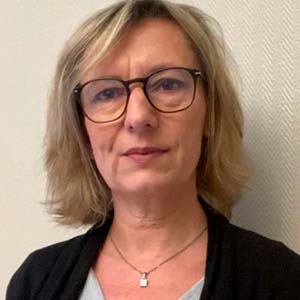 1996 PhD degree in Electronic and Optic at the University of Limoges, under the supervision of professor Bernard Jecko (XLIM laboratory).
1998-present Assistant Professor (Maître de Conférences) at ENSEA (Cergy)
1998-2009 Research at ECIME (Equipe Circuit Instrumentation Modélisation Electronique)
2009-present Research at ETIS (Equipes Traitement de l'Information et Systèmes)
Myriam Ariaudo is associate professor at ENSEA, Cergy Pontoise in France.  She deals with the study of modern numeric communication systems. Her main activity, dedicated to "Software Defined Radio" and "Green Radio", is the analysis and the correction of the defaults due to the analog part of the transmitter and the receiver, implementing the concept of Dirty RF.  
Modelization of RF circuits (non-linear, large band, noisy, reconfigurable…)
Sizing and Modelization of entire transmission chains including the RF front-end to analyze the performances: application to wireless communications, application to RF interconnects on a SoC, use of complex signals like multi-carriers ones, characterized by a variable envelop
Development of new circuits and systems according to the application : new agile multi-bands synthesizer, multistandard emitter
Linearization, efficient improvement
I/Q imbalance compensation
Interference reduction
Mis-synchronisation
The main current research topics are focused on the design of new topologies of power amplifiers to meet the requirements of high efficiency, large bandwidth and high linearity for the new generation of mobile networks.